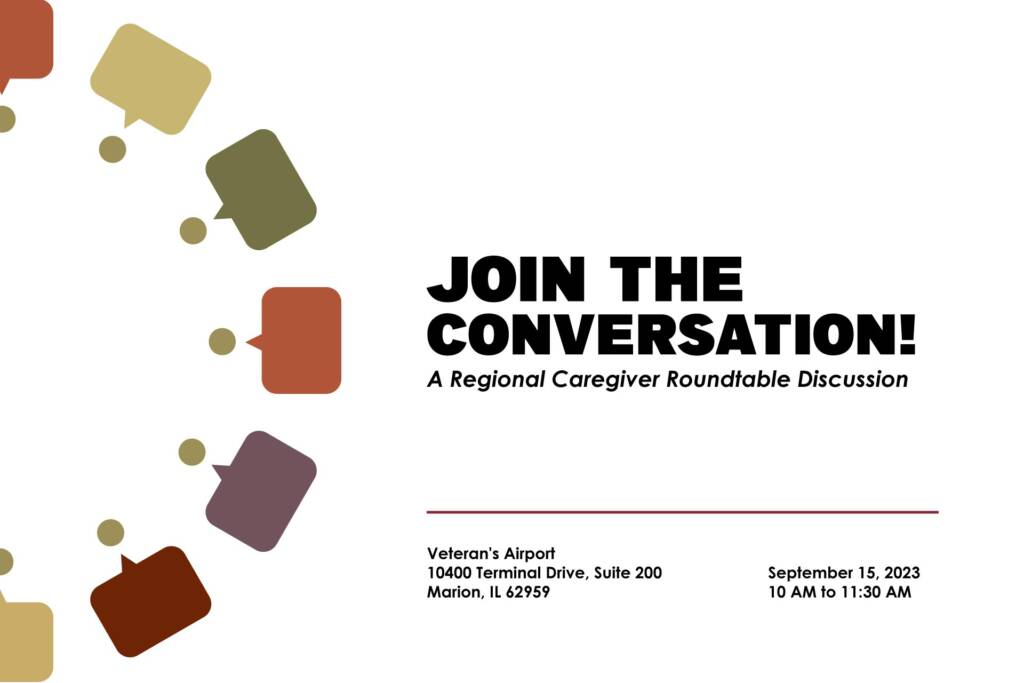 Egyptian Area Agency on Aging in collaboration with Illinois Department on Aging with Illinois Department on Aging (IDoA), invited you to…
Join the Conversation! A Regional Caregiver Roundtable Discussion
Date: September 15, 2023
Time: 10 AM to 11:30 AM
Location: Veteran's Airport
10400 Terminal Drive, Suite 200
Marion, IL 62959
IDoA will focus on identifying the needs and challenges faced by caregivers,
both met and unmet, and explore additional support that can enhance your
caregiving journey. Your valuable insights will help shape future policies
and initiatives that address the specific concerns of caregivers like yourself.
Please RSVP to: Egyptian Area Agency on Aging 618-985-8311 to confirm your attendance.
We kindly request your response by September 10, 2023 to ensure adequate arrangements for seating and materials. Please inform staff when RSVPing if any accommodation or interpretation is needed.
For those unable to join us in person, IDoA will have virtual options available at a later date to ensure inclusivity and accessibility. If you require a virtual participation option, please mention your preference when you RSVP.
Your voice matters, and we believe that by working together we can create a more supportive and caring environment for all caregivers in our state.